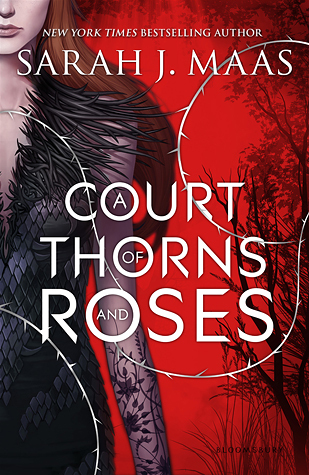 A Court of Thorns and Roses
by
Sarah J. Maas
My rating:
5 of 5 stars
This review may be a tiny bit biased..
Sarah J. Maas
has been one of my favorite authors ever since I picked up
Throne of Glass
. I adore her writing style, her unique way with words and of course the fact that she has a knack for coming up with kickass heroines!
A Court of Thorns and Roses
ticks all these boxes and delfs into a story involving Fea as well as some 'fairytail' aspects which we are all familiar with. I love books surrounding fae.. No really, I have a very special place for those and if you look through my fave list, you will spot 5 of them already! *insert girly sigh here*
The good part of those is that there are a lot out there. The lesser part, is that this abundance can make these feel regurgitated. ACOTAR is most definitely not one of those...
The story begins with Feyre
who manages to get herself in a very tight spot when she kills a wolf in the woods to survive the barren winter with her family. The wolf is not just a wolf, no it's a Faerie wolf.
After a horrifyingly long war between faeries and humans, a divide has been set up and with it some rules which according to a Fae called
Tamlin
have now been broken.
Tamlin now comes to get retribution for her kill, however upon seeing Feyre's circumstances decides to 'mercifully' let her pay those dues by coming with him into the faeries domain for the rest of her life (though not all Fae are happy with this decision either).

"Well," Lucien said, his remaining russet eye fixed on me, "you don't look half as bad now. A relief, I suppose, since you're to live with us. Though the tunic isn't as pretty as a dress."
Wolves ready to pounce - that's what they were, just like their friend. I was all to aware of my diction, of the very breath I took as I said, "I'd prefer not to wear that dress"
"And why not?" Lucien crooned.
It was Tamlin who answered for me. "Because killing us is easier in pants."
Needless to say, this goes down with her just as well as a cup of cold sick and Feyre who has been brought up to despise the fae, tries will all her might to find a way out of this arrangement.
But not all is what it seems and when more questions come up with some very real dangers and she also slowly begins to warm to her hosts, all bets are off when they all are facing a very dire threat..
The contrast in worlds and coinciding emotions has been done very well. I especially felt for Feyre, she is clever but also incredibly stubborn, resulting in some definite headbanging and heartache throughout.
Tamlin was awesome, I love the quirky banter that gets thrown into the dialogue. It's nice to see the main characters warm up to one another but not loose their own sense of self or purpose.
Oh, you should have been born with my abilities, if only to have felt the rage that seeped from him."
I didn't want to think much about his abilities. "Who's to say he won't splatter you as well?"
"Perhaps he'll try- but I have a feeling he'll kill Amarantha first.
The revelations near the last third of the book left me with a big smile on my face! Of course... It was so masterfully thought out. Why didn't I pick it up? How could I have been so blind sighted..!
In true fae style we get faced with half truths, omitted consequences and really nasty creatures and in turn we also have the loyalty, strength, beauty and wonder that comes with the chosen lore. They are all brought to life in this book.
There is no instantaneous love to be found either, for which I'm grateful. Relationships (good and bad) are forged over time. The story ends on a good note however also leaves us with a big teaser of what is still to come and that is ramping up to be one bad ass series!
Would I recommend this?
Hell yes! Yes, yes... yes.. sigh I wish I could recommend it to myself and read it all over again *swoon*
View all my reviews