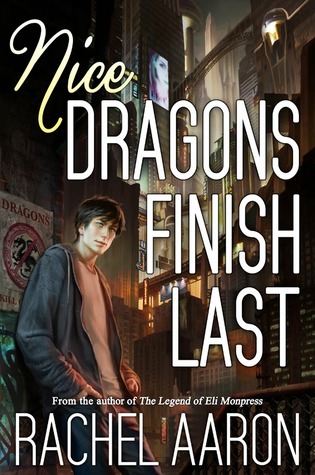 Nice Dragons Finish Last
by Rachel Aaron
My rating: 5 of 5 stars
It is quite the task to find a dragon shape shifter book that is
A
: Not a Alpha male seeking a mate
B
: Has great amount of action and a fantastic story line and
C
: Is funny as hell.
Nice Dragons Finish Last
is probably one of the best Dragon books I have ever read. If not
THE BEST
. I know I am throwing about big words here.. Contenders such as
Dragon riders of Pern
,
Talon
and
Seraphina
make it nearly blasphemous but this really is a
read for yourself
kind of statement. Nice Dragons Finish Last is the first book of the
Heartstrikers series
(which is planned to have 4 or 5 books from what I have been able to find out) and such a creative take on dragons it will give you whiplash however somehow keeps staying true to the classic bad dragon image.
This witty combination of Urban, Fantasy, and Contemporary humor has totally caught me by surprise. Yes, after reading the synopsis I was already quite taken with the promise. A under performing Dragon about to get his ass whooped if he does not live up to the cunning and ruthless Dragon standards. The way
Rachel Aaron
has woven this story together is simply brilliant.
We follow
Julius
shortly after he has been banished from his home. His sheltered cave where he managed to somehow stay out of the way of everything big and remotely Dragony. Unfortunately mummy dearest has had enough of his cowering and seals his form , kicks him out of home and gives him one last chance to prove he is in fact a true Dragon. But as the youngest of his clan, and with a conscious big enough for all of his brothers and sisters, he is going to have to use his smarts to full extend, only he has morals to adhere whilst doing so.
"Julius stared at the phone in horror. "Are you telling me to mug someone?"
"Well, I would hope you could come up with something more elegant than brute force," his brother said. "But mugging will do in a pinch, yes.""
Thrust into this spectacular version of Detroit where creatures, mages and magic runs wild and any Dragon is killed on the spot, Julius fights to find himself a spot and regroup when he comes across
Marci
a feisty mage with a cat ghost as her reluctant companion. The two team up and together they take on their set of circumstances, making the best of the situation as it presents itself. Though a bigger plan is in motion and soon enough twin brother
Justin
, Julius' total opposite, throws himself in the mix too.
"I am a mage," she replied with every ounce of haughtiness three years in a competitive doctoral program had taught her. "We bend the rules of the universe on a daily basis. Presumptuousness is the base line for entry."
The dragon's green eyes widened, and then he burst out laughing."
With his older Sister
Chelsie
already haunting his every move from within the shadows and his enigmatic brother Bob throwing him the occasional bone to keep him alive, the books is truly an eclectic mix of characters.
"Should I take it? No one has this number."
"That's never stopped me," Bob said before Julius could open his mouth. "Just answer it already. The suspense is almost as obnoxious as your ringtone."
I have seen other reviews which mention this book to be a slow starter. I have to disagree. I was entertained throughout and found it hard to put the book down, but then again I also have no qualms diving into a epic fantasy. Rachel Aaron (or Rachel Bach under a other pen name) really outdid herself and I immediately bought the sequel
One Good Dragon Deserves Another
. I am absolutely trampling for
book 3
! As a matter of fact (
confession time
) I have even go as far as to have forced friends to read it since (
and with forced, I mean my constant nagging broke their No button
). They have since come around to the dark side as well.
Also, have you seen the striking cover?

(

See what I did there..

).

In all seriousness though, it's no secret I love artwork covers. This is another fantastic example of it, giving the

Inkeeper

covers some steep competition. In all honesty I don't think there could have been a better choice. Whilst I do like the more contemporary covers, this fits it's essence brilliantly.

For anyone that is a fantasy fan, this is sure to get their senses tingling. it might not be your standard traditional but it encompasses everything one could ever want! Except for maybe Romance, really in situations like that you would be hard pressed to find any although there might be a sprinkle.. SO if you are looking for dragon love you are better off reading

Thea Harrison's Dragon Bound

;)

Now I am going to hibernate until the next installment comes out... (where is a cave when you need one!)..